Celebrate Janmashtami with a variety of Janmashtami cakes
Janmashtami is the auspicious occasion of Lord Shri Krishna's birthday. There is a big traditional ceremony of breaking the pot of curd by making a human pyramid. It is a traditional sport for all Krishna devotees. People mostly place a baby idol of Lord Shri Krishna on a baby swing to celebrate their birth. Other than that, people also prefer cutting Janmashtami cake in their respective homes to begin the celebrations for the day.
Different Types of Janmashtami Cake Designs Ideas
There are wide varieties of adorable Janmashtami cake designs for you to choose from this Janmashtami. Here are some of the Janmashtami cake themes for you:
Kanha Ki Matki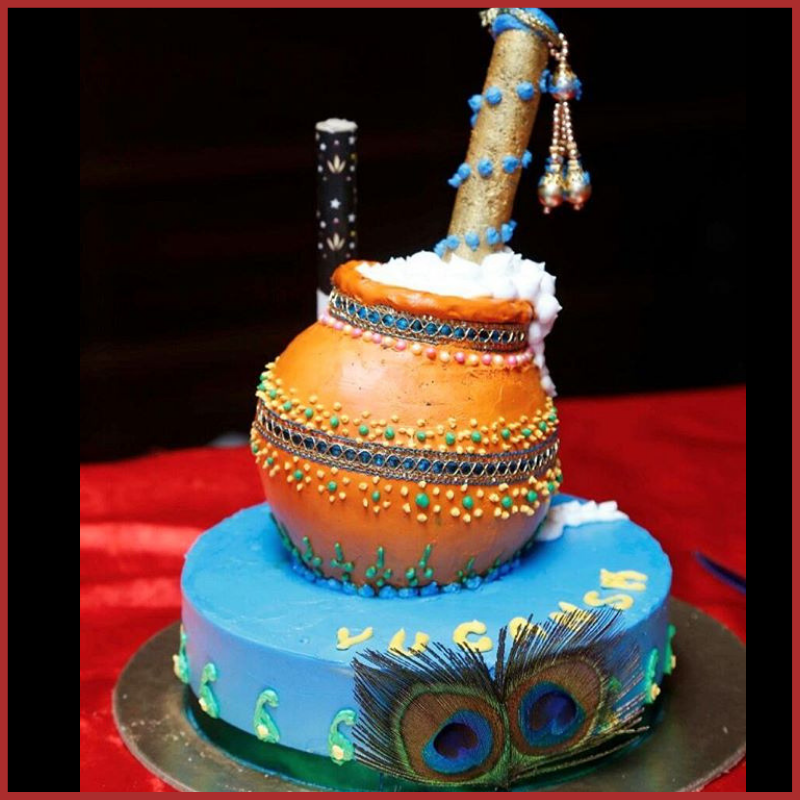 This Janmashtami cake design replicates the image of Lord Krishna's pot, also known as Matki. It is made of a vanilla-flavored base and can be customized with peacock feather design using cream to look catchier. On the top, The Matki is crafted with butterscotch flavor and the detailing on it is done using pineapple cream. You can add some writings if you want, but it looks attractive even without it. The cute little pot replicates overflowing curd from the top with a spatula dipped inside. It can be made in desirable weights as per your needs.
Krishna riding peacock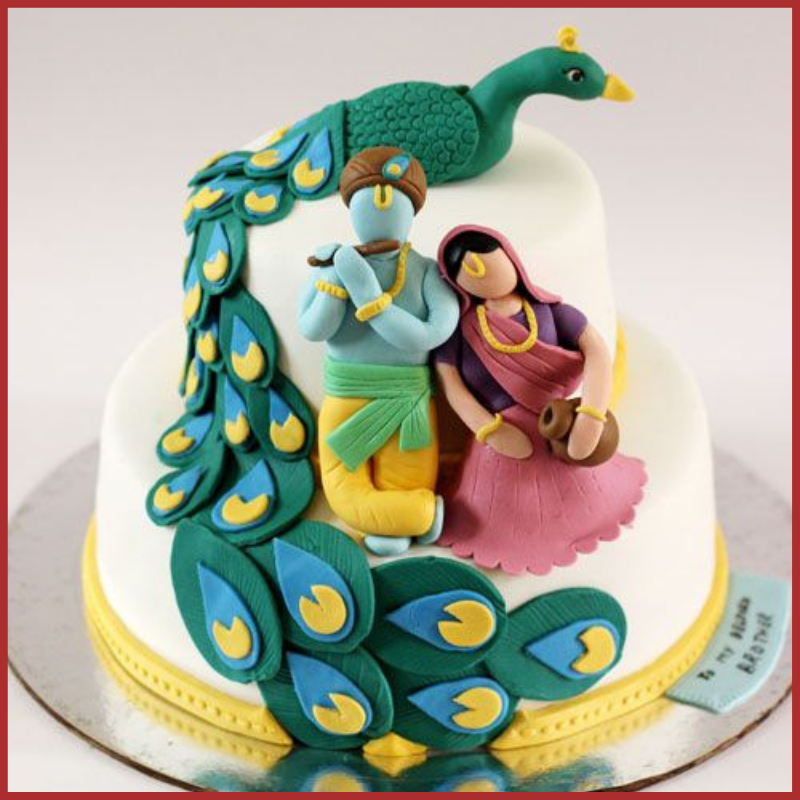 These are blueberry and vanilla theme cakes which replicates the iconic figure of Lord Krishna sitting on his peacock with glazing eyes. The detailing on this cake is given a high priority. The feathers of peacock and the dress and jewelry of Krishna look very vibrant in this design. It is a three-layer cake where the base layer is of blueberry flavor and the middle layer is of vanilla. On the third layer sits the peacock with its feathers hanging completely down to the base. Caramel cream can be used to make ornaments and flowers around the base layers.
Krishna's Flute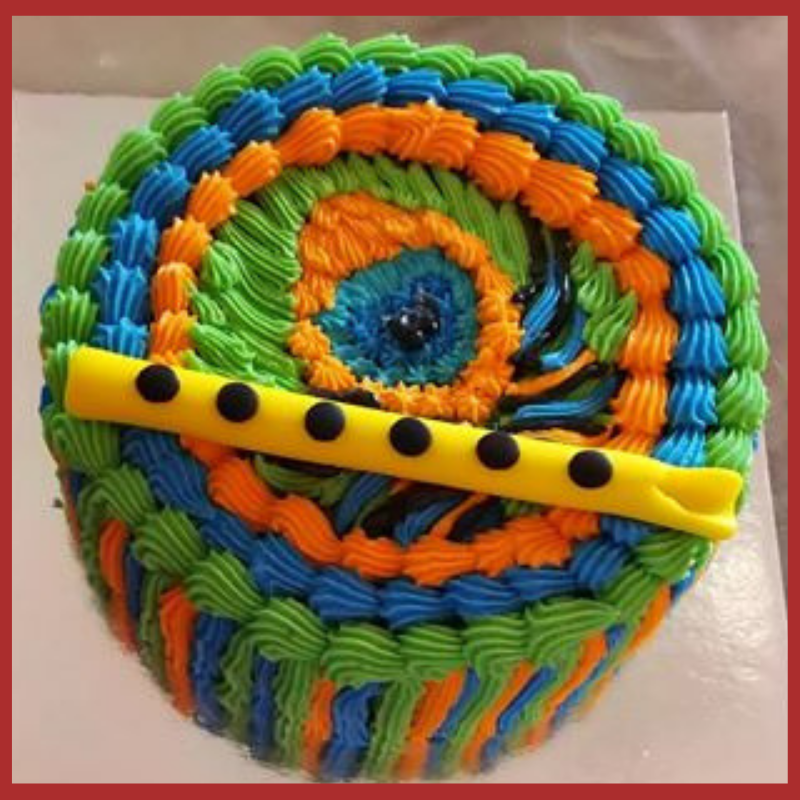 It is chocolate-based Janmashtami cake replicating Krishna's flute. It is a one layer chocolate cake with the image of a peacock feather on the top. The side of the base is designed with colorful creams, and on the top of the peacock feather print lays Krishna's Flute. Krishna's flute is made of butterscotch cream filled with chocolate cream in the flute holes. It is available in all sizes as per your demand. Itis one of the simplest designer cakes but still fits well for the Janmashtami celebration.
Birth of Lord Krishna
It is a beautiful theme Janmashtami cake which replicates the birth of Lord Krishna. It is a three-layered cake where baby Krishna is on a basket where her mother and other ladies surround him. This cake design shows the charismatic scene of Lord Krishna's house. This cake design also has a cow sitting next to Lord Krishna.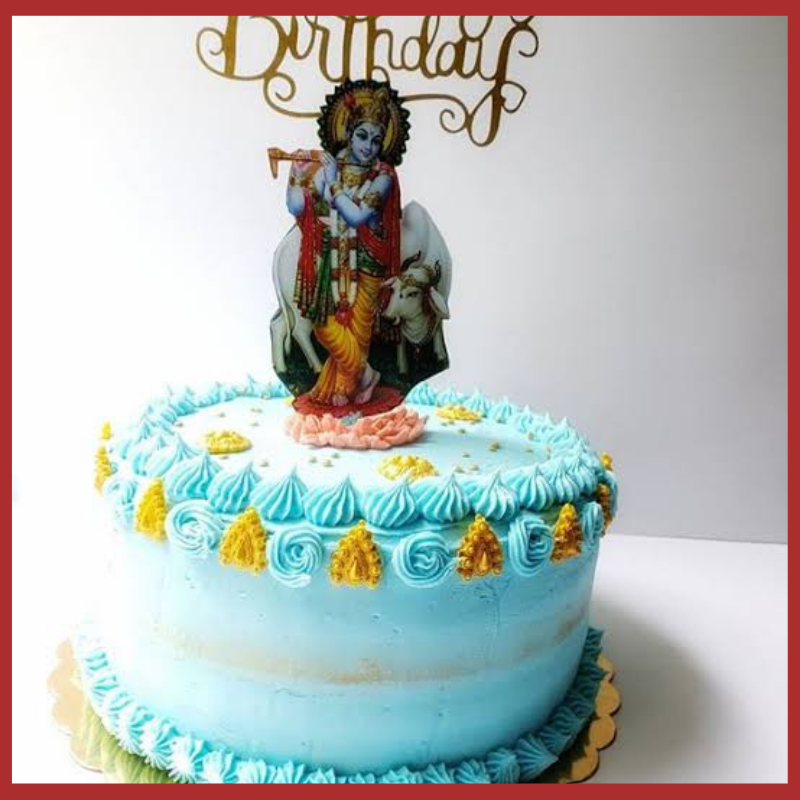 It is made of vanilla flavor and fruit creams to decorate the edges of the cake with flower designs. The color details in these festival cakes are giving much importance to make it look appealing. All the minute details of the ladies wearing sarees are highlighted using fruit creams. It is available in all sizes depending upon your requirements.
Krishna eating Makhan
Curd is most famously known as Makhan of Krishna. It is a chocolate Janmashtami cake with berries cream layer on to replicating baby Krishna stealing and eating Makhan from Matki. The eyes of Lord Krishna in this design are broad, just like when her mother catches her eating Makhan. Little cupcakes surround this cake design with fruit creams and chocolate disks on top of each cupcake.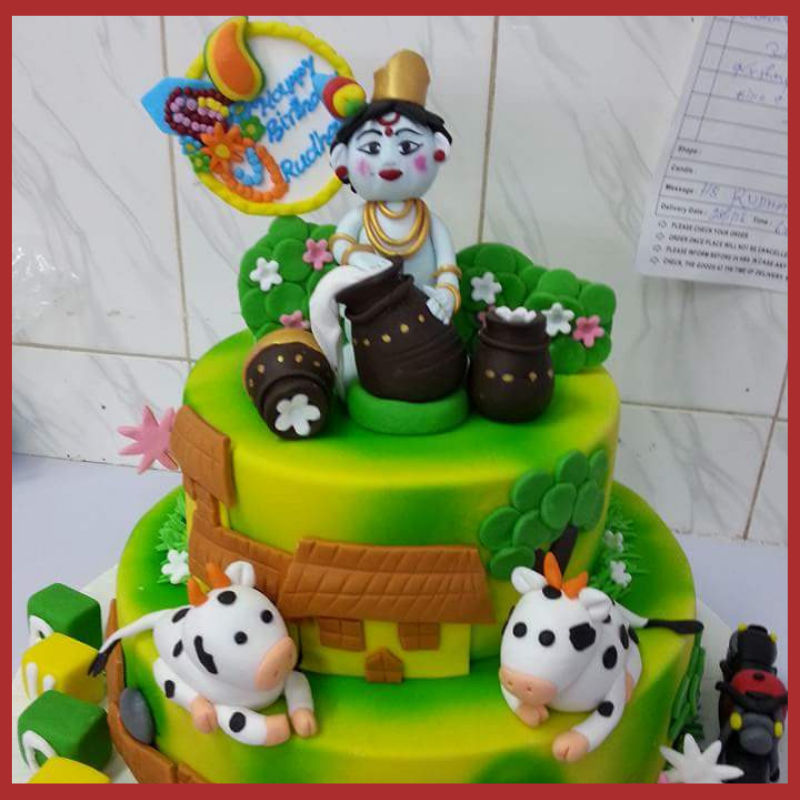 Each chocolate disk either had Krishna's feet imprint or peacock feather on it. It is a one chocolate layer cake with a big feet imprint of Lord Krishna. On the top of the base sits LordKrishna with his peacock feather on his head and hands full of Makhan. You can also add some text on the chocolate disks in case it is someone's birthday on Janmashtami.
Radha Krishna Cake
It is a pure vanilla cake that replicates the idol of Radha and Krishna where Krishna is playing the flute, and Radha leans on his shoulders. A peacock is also seen in this design on the top layer with its feathers hanging down to Radha and Krishna's feet. It is a three-layered pure vanilla cake with fruit cream designs. The color of the idol is very vibrant and looks very adorable for the occasion of Janmashtami.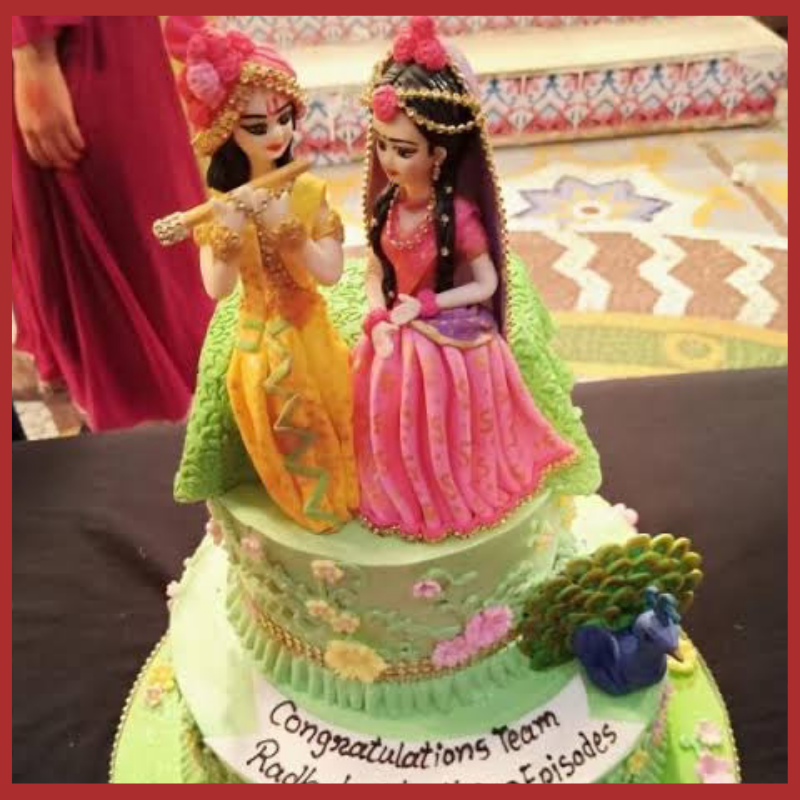 These are a few of the Janmashtami cake designs that would fit best for the celebration of the auspicious occasion. You can order cakes online in Delhi to get perfect attractive theme cakes of premium taste and at a reasonable price. So, welcome Lord Krishna this year with a wide variety of cake designs followed to which you can take part in inbreaking-the-pot traditional sport in your locality.